Knotical Knews #23: In The Path Of The Train
   One of the most destructive  hurricanes to ever hit the United States just had an anniversary. It started as a tropical wave that emerged from the west coast of Africa on August 14. The wave spawned a tropical depression on August 16, and then became a tropical storm the next day.  It strengthened quickly and the storm reached hurricane strength on the 22nd and Category 4 status on the 23rd. After  weakening over the Bahamas the storm regained Category 4 status as it blasted its way onto the U.S. coastline on August 24.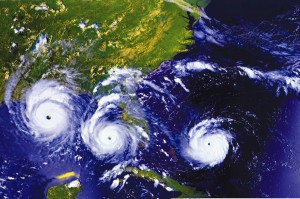 Reports from private barometers helped establish that the storms central pressure at landfall was 27.23 inches, which made it the third most intense hurricane of record to hit the United States. Its peak winds could not be directly measured due to the destruction of the instruments that were designed to record that very information. An automated station reported 142 mph sustained winds with gusts to 169 mph before the station was damaged by the very winds it was trying to record. Higher winds may have occurred but we'll never really know. The National Hurricane Center had a peak gust of 164 mph before it's equipment was destroyed while a 177 mph gust was measured at a private home. Berwick, LA reported 96 mph sustained winds with gusts to 120 mph.
   This storm produced a 17 ft storm surge near its landfall point, while storm tides of at least 8ft flooded portions of the Louisiana coast. It destroyed 126,000 homes, left 180,000 people homeless and wiped out 80 percent of the area's farms. This storm also produced a killer tornado in southeastern Louisiana and was responsible for deaths in the United States and in the Bahamas and caused $26.5 billion in damage in the United States.
   The year was 1992. The storm was Andrew and South Florida would never be the same and to date the area where this storm first made landfall eight years ago still has not fully recovered.
    Today, Andrew's aftermath is still being felt in South Florida. Andrew changed everything from insurance regulations and construction codes to the location of the National Hurricane Center. Think about that for just a minute. Andrew was so strong, so devastating that the agency that predicts and monitors hurricanes packed up what was left of their facility, which wasn't much, and moved into a hurricane proof building on the Florida International University campus in Miami.
   More than 600,000 insurance claims were filed, and 25 percent of the nation's insurance adjusters came to South Florida to help out. Eleven insurance companies went bankrupt, and 30 others lost up to 20 percent or more of their surplus. About 930,000 policyholders were left with no coverage options.
   I feel for the people of New Orleans and the other cities and towns as they mark five years since Katrina but make no mistake. This will not be the last natural disaster to befall us, whether citizens of the U.S. or other parts of this world we live on. I personally would have opted for not rebuilding a city that is below sea level, is protected by an antiquated levee system, and according to some environmental scientists using actual scientific data, is sinking.
    It's time to face the simple fact that Mother Nature wants us dead. She is some kind of pissed at us and it is high time we took notice. What makes us actually believe that we can tame, or live peacefully on, something as wildly unpredictable and yet so beautiful as the Planet Earth? Earthquakes, hurricanes, tornadoes, typhoons, blizzards, tsunamis, acidic oceans, volcanoes, mudslides, forest fires, lightning, flash floods, etc. I mean think about all the ways that nature can kill us and you would be hiding under your bedspread and never come out.
   We live on a very violent planet and I have said in the past that if you were a space traveling alien species, like Greg the First Mate, I doubt that you would stop off at a planet as turbulent as ours. It's amazing that we have survived and thrived thus far, it really is.
  So I leave you with this. If you live in the path of the train don't be surprised when everything you love or own is destroyed by the train.
   It's time to move off of the railroad tracks.
                                                          Capt. Patrick
  Time to lighten the mood with yet another one of Capt. Patrick's "Hidden In Plain Sight" bonus features!
 Join us as Bill takes us down to Stingray City!  The look on Greg's face pretty much says it all.